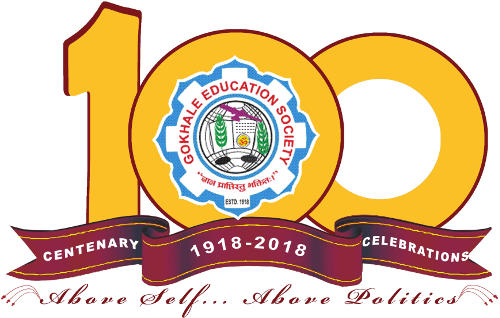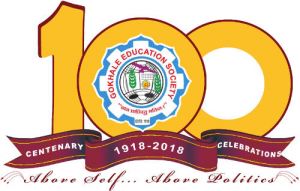 A MILESTONE IN ACADEMICS, DISCIPLINE.
Society is known for Students' Discipline, Academic Excellence, Professional Competence and Innovative Programmes with a track record of Students and Staff achievements.
Society at a glance
The Gokhale Education Society was founded on 19th February 1918, on the third death anniversary of Namdar Gopal Krishna Gokhale, by his illustrious disciple late Principal T. A. Kulkarni, who was a great social worker. Society has completed 100 years of meaningful existence and has today more than 140 units spread over three zones Mumbai, Nashik, Thane-Palghar catering 1.25 lakhs pupil. It is one of the oldest and pioneering educational institution established with the main objectives of developing quality citizens through education and training. The society has all along emphasized the holistic approach and total personality development of pupil, through educational programmes undertaken on the basis of service and dynamic leadership. The society is a veritable banyan tree. A number of branches of the Society have like its descending shoots taken roots in the ground and strengthened it.
The Gokhale education society is committed to the cause of student empowerment through access to education at all levels particularly in higher education, to have world-class citizenship through relevant courses under formal and informal streams. Further, the society is committed to raise the dignity of the teaching profession and establish a culture of caring and excellence by providing a wide range of professional and vocational courses for poor and downtrodden as also for the Adivasis and backwards to meet the changing socio-economic needs with human values and social responsibility. To achieve excellence with total quality in all activities of lifelong learning is the main motive of Gokhale Education Society.
Salient Features :
Society's mission is to provide value-embedded quality technical education through –  a) curriculum development, b) updated faculty training and retraining, c) building linkages for developing confidence, creativity and synergy, and d) establish identity by selfless, ceaseless and fearless work through its dedicated staff.
Society is entirely managed by teachers. All the members of the Governing Body are necessarily required to be Life Member teachers. More than 50 out of 60 members of Senate the appex body, have to be Teachers.
Society's all Colleges are NAAC Accredited.
All colleges (Senior/Junior) & High Schools, as well as Pre-Primary and Primary Units of the Society, are ISO 9001:2015
This is one of the Pioneer Institution, providing education at all levels K.G. to P.G. and beyond for the Adivasis and the downtrodden, in this part of the country.
Full academic freedom to teachers for innovation and development.
Society's colleges have permanent affiliation and recognition for PhD programme.
Extensive use of ICT in Teaching & Learning Process.
Mobile Laboratory/Commerce Museum for making higher education more pragmatic.
Introduction of application-oriented courses relevant to changing times.
Higher Education is made entrepreneurial through seminar as a method of learning, Group Discussions, Project Work, Placement Cell and Research & Innovation Centre.
Appex institutions include staff training academy, E-research cell, Science & Technology Park and publication of Research Journal as regular activities.
"Each and every institution is my soul. Each and every institution has a niche in my heart.
We all assayed day and night. And then prepared the way to growth"
SIR DR. M. S. GOSAVI
Secretary & Director General
Gokhale Education Society, Nashik
In January 1885, Namdar Gopal Krishna Gokhale joined New English School, Pune as a teacher at the scanty salary of Rs. 35. For him truth and moral uprightness were of highest importance. That is why Mahatma Gandhi regarded him as his guru. During the Congress Convention in 1905, Gokhale clearly stated, "Public life must be spiritualized." Gokhale, impassionate lover of the motherland strived hard for India throughout his life. Anyone, who would come in his company feel the presence of the Almighty with him. The thought that we must start an institution named after this Great Soul was constantly kept roaming in the mind of Prin.T.A.Kulkarni since 5th December, 1912 when he started New English School in Kashibai Dharmashala building in Mumbai. Other teachers like D.G.Mulherkar, Achrya Bhise, Y.M.Lad and B.S.Sanjagiri along with Prin.T.A.Kulkarni had already joined the school.
The school was already approved by the government. The student strength was 290 from 1st to 3rd standards. There were branches of Marathi and Gujrathi medium. High school was in English medium. In 1918 the first batch of matriculation was to appear for the examination and their forms were to be sent to the University. At that time, as per the advice of N. M. Joshi,the labour leader and G. K. Deodhar, who both were members of the Servants of India Society; Prin. T. A. Kulkarni has happily agreed to hand over the school and form educational society. He was in constant efforts to get Namdar Gokhale's consent for giving his name since 1912. However Namdar Gokhale passed away in 1915. Prin. Kulkarni desired that at least after his death the institution should be named after him.
After that Prin.T.A.Kulkarni (Kakasaheb) used to come to Pune to procure the requisite permission from Govindrao, Namdar Gokhale's brother. The occasion was the 80th birthday of Dr.Ramkrishna Gopal Bhandarkar. 4th July 1917. Shrimant Bhavanrao Pantpratinidhi, Rajesaheb of the Aundh State was the Chief Guest. The function was going to be held at Barrister Jaykar's bungalow. Principal T.A.Kulkarni, a founder of an educational institution, was one of the invitees and therefore both of them met. In the course of discussion it was revealed that Prin.T.A.Kulkarni was going to establish a school in the name of Namdar Gokhale. When Bhavanrao came to know this, he said, "I am very happy that the institution is being named after Gopal Krishna Gokhale. I will make a donation of Rs 50,000." Immediately Kulkarni countered, "I have yet to take permission from Govindrao, brother of Gokhale for naming our society. Today Dr. Bhandarkar is completing 81 years and we both are here to felicitate him for his life and work and this donation be declared for him." Rajesaheb was very much touched by the transparent and illuminating personality as reflected from what Kulkarni said. In his address, Rajesaheb mentioned this fact and stated that today I met a person in this assembly who is going to start the Society in the name of Namdar Gopal Krishna Gokhale and I desired to give the donation for the same. But this self-less person clearly stated that the institute is yet be named and in today's grand function, it will be appropriate to honour Dr. Bhandarkar on his 81st birth anniversary.
Referring to this Rajesaheb said, in order to carry forward inspiring and immortal work of research in Mahabharata of Dr. Bhandarkar, I declare a munificent donation for the institution to be named after Dr. Bhandarkar on his 81st day, to be utilized for research on Mahabharata. It is through this event that Bhandarkar Institute was born on this day. It was after this function that Prin.T.A.Kulkarni met Govindrao alogn with Rajesaheb and obtained his consent.
Immediately there after four more life members were enrolled required for the establishment of the Society and on 19th February 1918, which day was the third death anniversary of Namdar Gokhale,Prin.T.A.Kulkarni announced the establishment of Gokhale Education Society. N. M. Joshi, the labour leader and G. K. Deodhar, both being founder members of the Servants of IndiaSociety were present when Prin.T.A.Kulkarni announced birth of the Society.
Then Shrimant Bhavanrao also helped Principal T.A.Kulkarni to procure a donation from the Thakarsey family and received the first donation Rs. 50000/- for a school at Mumbai. Thus Mumbai, which was the birth place became the first center of the Society. Later on in 1924,Shriman Seth Hansraj Thakarsey donated Rupees two and half lakhs for establishing a center of higher education launched at Nasik for the reserve fund as per the University rules and Hansraji Pragji Thakarsey College was born at Nashik, being the first Mofussil college in the then Bombay Presidency.
CELEBRATING YEARS OF QUALITY SERVICE.
Established in 1918. Hundred Years of Quality Service. Three Zones – Nashik, Mumbai & Palghar/Thane with 20 Centres and 140 Institutions.
1,25,000 Pupils and 4000 Staff. The Society is known for Students' Discipline, Academic Excellence, Professional Competence and Innovative Programmes with a track record of Students and Staff achievements. Society's Colleges have permanent affiliation and recognition for Ph.D. programmes.